Julianne Zimmerman
Binary Capital.  Dave McClure.  Commentary from Reid Hoffman on LinkedIn to Rudina Seseri on TechCrunch to Scott Kirsner in the Boston Globe, and well beyond, not to mention the twitterverse.
If you inhabit any part of the innovation / entrepreneurship / venture capital sphere, over the past few weeks you've probably heard multiple iterations of a conversation about how to reform VC.  While I think there is ample evidence that the VC community is overdue for its next stage of evolution, I propose a change in the conversation.
Instead of wringing hands about what VCs could, should, or ought to do, let's talk instead about what steps LPs [limited partners — the people who invest in venture capital funds] can take to change things for the better.
I got the power!
LPs can have more say than you might realize.  Long before the latest reports of LPs pulling capital from problematic funds, the 2012 Kauffman report offered several sharp observations and recommendations for LPs to exercise greater scrutiny and influence over their venture capital investments.
You don't have to be an investment officer to make a difference.  For example, much has been written over the past few years about colleges and universities altering their investment holdings in response to pressure from students and alumni.
And not only institutions, but individuals and family offices can also flex their LP powers.  Many small funds are accessible to investors with $1M or less to commit, with some accepting investments as small as $5k.  Furthermore, small and first-time funds are keen to work with new LPs.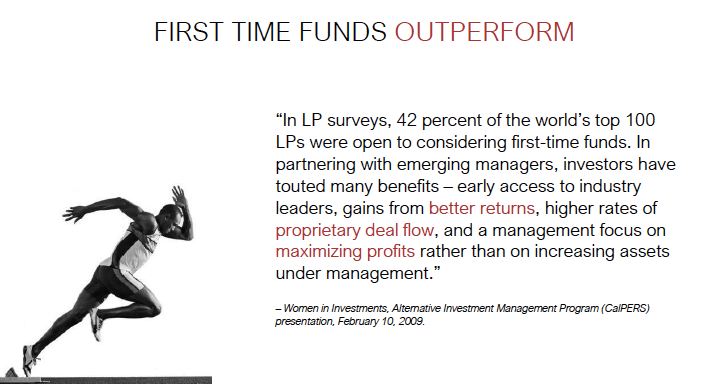 And here's the kicker (thanks to Heather Redman / Flying Fish Partners for the graphic you see here): as a category, small and first-time funds frequently outperform large and late funds.
In other words, you have power to change the system — and reap the rewards.
Be the change.
Whether you are an established LP or contemplating your first foray into venture capital, you can exercise your investment capital to change the conversation around gender and social equity and generate returns.
Other than Reinventure, we don't see funds focusing on early growth stage (companies at or about breakeven, preparing to scale).  If you know of any, please let us know!
But there is a growing number of funds and collectives focusing on early stage investments.  In addition to Flying Fish, we have met several other funds designed to invest startup capital more consciously.  You might want to check out, for example:
Gayle Jennings O'Byrne / Harriet Fund
Kathryn Finney / Digital Undivided
Arlan Hamilton / Backstage Capital
Deborah Jackson & Andrea Turner Moffitt / Plum Alley
Kathryn Cartini, Elisa Miller-Out & Erica O'Brian / Chloe Capital
Alicia Robb / NextWave Ventures
Kate Castle / X Factor Ventures
Go direct
If you prefer to invest directly in companies led by women and people of color, there are LOTS to choose from.  We have met some amazing teams, growing impressive businesses.  Just a few examples include
Ron Steptoe / Warrior Centric Health
Cultivate your network
… Or if you want to get to know cohorts of up-and-coming founders, you can also sponsor or partner with groups like
Black & Brown Founders / Aniyia Williams
WFF Connect / Carine Schneider & Jennifer Lopez
Zebras Unite / Jennifer Brandel & Mara Zepeda
Code2040 / Laura Weidman Powers
Global InvestHer / Anne Ravanona
That's not all.
Want more?  Drop us a note and let's discuss.  We believe in the power of connections.  Specifically, we believe that the only way new things happen is when people connect.  We're actively participating in changing the conversation, in part by knitting together a new network.  We are keen to connect fellow knitters!
We don't stop at building the network.  At Reinventure, we're reinventing investing.  The Reinventure Capital investment thesis is based on the successful discipline Ed pioneered with his previous fund — which delivered 32% IRR over its last ten years, along with equally solid impact results.  We believe that there is even greater opportunity now to deliver both intentional social impact and competitive financial returns, without compromise to either.*
Word to deed
Let's say that again, because it bears repeating:  we believe that narrow perspectives within venture capital (and other finance sectors) create a timely opportunity for those who can see the larger vista, and take action accordingly.
Do you see persistent inequity in venture capital and other finance segments?  Speak out.  But don't stop there.  Use the power of your investment capital to change the conversation, and change the landscape while you're at it.  Collectively, we have the power to create a more ethical capital system.
Reinventure Capital is investing equity and debt capital in early growth stage (breakeven or so) companies led by women and people of color.  We're proud to be in extraordinary company with others who are also taking action to invest for good.
Please join us.
---
*While there's no such thing as a guarantee in investing and no one can reliably predict the future, Ed's prior track record provides direct evidence that it is indeed possible to consistently invest for both financial returns and social value creation.  To learn more, please contact us.
Share this page